In preparation for the planned restoration of My Son tower group in the near future, recent expert delegation by the general director of the Indian archeology has led the survey research at My Son.

This survey is an activity to realize the MOU between the two governments of India and Vietnam in July 10/2014 for the Conservation and Restoration of Cham architecture in My Son by the Indian Institute of Archaeology conducted.
Accordingly, the Indian side will finance the conservation and restoration of the tower at My Son Group with a total budget of 2.5 million dollars (over 54 billion). This project will be implemented in 5 years. During implementation, India will provide technical experts and supporting equipment and materials necessary for the restoration and embellishment of towers in My Son group.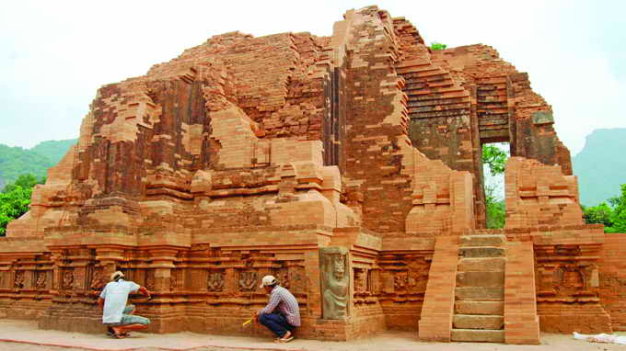 My Son sanctuary is regarded as one of the main centers of Hinduism in Southeast Asia, recognized by UNESCO as a World Cultural Heritage Site since 1999. In recent years, thanks to boost efficiency heritage conservation associated with extensive international cooperation has contributed to My Son exists and promote good values ​​to this day. In particular, through the assistance of international organizations such as Lerici, ILO, MAG, JICA, Asiana Airlines, UNESCO Office in Hanoi and the government in some countries: Italy, India, Japan ... , a lot of items, works at the My Son sanctuary has been gradually restored, restored.

Mr. Rakesh Tewari - CEO Indian archaeological agency said the restoration project implementation teams at My Son Cham towers coming will succeed because of the similarity of this tower with multiple towers in India such as Cambodia, Myanmar, Nepal ... that the Indian professionals are doing.

Reportedly, the first step, the parties agreed to select research group restored tower A, especially towers A1 because this is a masterpiece of architecture, the most beautiful flowers ever existed in My Son and the degree of convergence High-tech research will then continue group H and K. To prepare for the project, about the beginning of June there will be a delegation of experts from India to work in My Son in a month's time to Data collected on the temples, climate and soil, as well as research measure, detailed drawings of the tower group K, H, A before a specific plan approved by the government on implementation.