Da Nang to the visitors not only admire the landscapes, the beautiful beaches, the system Danang hotel amenities. It was the bottom of the ocean expedition. Nestled under blue water village is the coral beach awaits visitors to explore this summer.
Below is information Coral sightseeing destinations for tourists in sea travel in Danang summer.
1. Furama Resort
Fares: 550k / guest ticket price includes swimming lessons, including lunch 1 dinner at the restaurant Furama
Sea coral diving in Da Nang, Furama Resort area crab. Not only is the 5-star resort is the largest in Da Nang, Furama Resort also famous for trekking tours for tourists who prefer adventurous adventure undersea coral Danang, very suitable for a group, 1 held jointly explore.
Travellers should take a resort 12km canoe and start your journey of discovery. You will find the colorful living below is looming. Not only is the home of coral species with strange shapes such as countertops, deer horn, but also the habitat of numerous species of small fish. The barracuda fish like rotating roll around rocks and reefs. Blue starfish, anemones trees sheltering light of clownfish swimming underneath. Also, there are many other species.
The best time to watch coral is from 10 am-12pm. Now stand shadow projection solar rays to the ocean create a beautiful setting like in a painting.

Furama Resort is the only center in Danang Scuba diving with PADI's (organizational coach professional diving). Furama diving center available with safety equipment and gear u dive European standards, professional team of instructors. create a snorkelling tour interesting and safe in the summer.

2. Son Tra Resort

Price: 500k include canoes go sightseeing Son Tra Peninsula, Coral Diving, Visiting Linh Ung Pagoda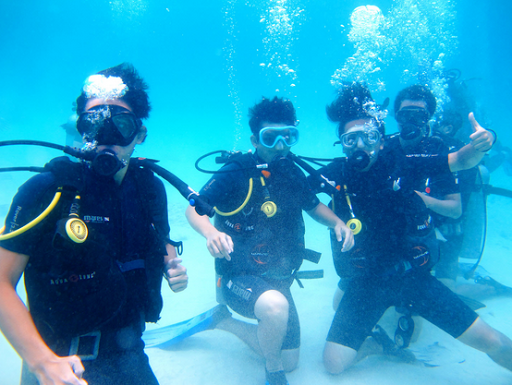 Guests can walk or transplantation Tuor to come snorkeling in Danang. Son Tra Resort at two beaches could be diving sea resorts and beaches south east. Travellers should take canoes out to the dive spots and immersed in sea water stream exploration started what hidden undersea Son Tra. All rooms are fully equipped with all personal protective equipment together with a team of professionally trained and enthusiastic

3. Cu Lao Cham

Location: Beach Cua Dai Quang Nam Danang 30km
Fares: 600k Including expenses from Da Nang to Cham Island within one day.

An coral reefs are part of the tour itinerary Cham, you can combine the tour of Da Nang and won the day for exploring Cu Lao Cham. After starting from Danang to Cua Dai Beach, visitors will travel to Cham Island canoe and visit the scene is quite peaceful and simple style village. The first stop is the most interesting and MPAs snorkeling. All rooms come with a small island, known for its rich coral reefs and diverse shapes of color. Life at Cu Lao Cham marine accentuated with dense coral and stretching. Also incorporated in the tour visitors can participate in team games, camping, fires, fishing ....

With locations on good snorkeling tourists to Da Nang each summer tourism attractive and fun.