City People's Committee has issued plans to hold Demo Contest Danang International Fireworks 2015 (DIFC 2015) with the theme "Da Nang - Symphony of colors", took place in two nights 28 and 29-4- 2015.
Besides hosts Da Nang - Vietnam, DIFC 2015 with the participation of teams Fireworks for Africa (South Africa), Pyrotecnico (USA), Howard & Son Fireworks (Australia), Surex Firma Rodzinna (Poland). Thus, DIFC 2015 representatives from all 5 continents (Asia, Europe, America, Africa and Australia) competition. Global 2000 company (Malaysia) continue to be chosen as the consultant for DIFC 2015.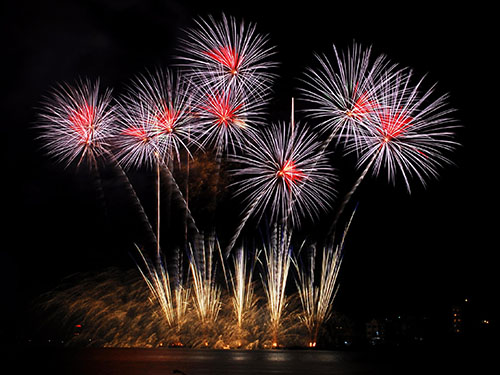 Under the plan, each team attended the 2015 DIFC will perform from 20-22 minutes (not to be under 20 minutes or 22 minutes too) under the theme of the contest. Evaluation criteria, grading will prioritize ideas, diversity and themes of performances; the richness, variety of colors; originality and quality of the performance, scale and effect amount; the synchronization between sound and image, the suitability of music with images of fireworks.

Place Fireworks at Han River port. The region stands at Tran Hung Dao street sidewalk (opposite the fire area); Bach Dang Street, Han River Bridge, Thuan Phuoc bridge and some boats are licensed to operate on the river ... the point view of the fireworks people and tourists.
 
In addition to the performances featured fireworks, DIFC 2015 also auxiliary activities such as cultural activities, sports, travel ... are held before, during and after the competition to attract people and tourists. MPC. Danang encourage enterprises to participate in the proposed idea of organizing the activities auxiliary to DIFC 2015. City People's Committee assigned the Department of Culture, Sports and Tourism to advise select implementing agencies of socialization drop flower and organize boat flower South river (at least 20 units and allows advertisers to place the logo on the boat).